Essays & Articles
GE: In diesen hier vorgestellten Essays und Artikeln werden wissenschaftliche, gesellschaftliche sowie internationale politische Phänomene und Themenkomplexe betrachtet. Im Mittelpunkt stehen Gedanken und Ereignisse zu den Themen Gesellschaft, Politik (national und international) Weltordnung, Außen- und Sicherheitspolitik sowie Europa.
EN: In these essays and articles presented here, scientific, social and international political phenomena and topics are examined. The focus is on thoughts and facts on the topics of society, politics (national and international) world order, foreign and security policy, and Europe.
Mit der hier angewandten essayistischen Methode nähert sich der Autor auf experimentelle Art einem bestimmten Themenkomplex und betrachtet diese aus seiner persönlichen Sicht. Von großer Bedeutung ist hier nicht zwingend der Gegenstand der einzelnen Überlegungen, sondern das Entwickeln der Gedanken vor den Augen des Lesers.
With the essayistic method applied here, the author approaches a certain topic in an experimental way and considers it from his personal point of view. Of great importance here is not necessarily the subject of the individual reflections, but the development of the thoughts before the eyes of the reader.
// Essays
.
[5] NATO-Eastward-Expansion in the context of political warfare and in the mirror of active allied aggression
(by Marc-Oliver Walz, 2022)
.
[4] Western diplomacy - the greatest illusion of the 21st century?
(by Marc-Oliver Walz, 2022)
.
[3] The "Apple of Discord" from Homer's Ilias in the Mirror of International Relations
(by Marc-Oliver Walz, 2022)
.
[2] Evolutionary Aggression and Covenantal Aggression in the Mirror of International Politics
(by Marc-Oliver Walz, 2022)
.
[1] The end of the trail - Has mankind reached its final stage of development?
(by Marc-Oliver Walz, 2021)
.
// Un CORTADO
Un CORTADO - Text editions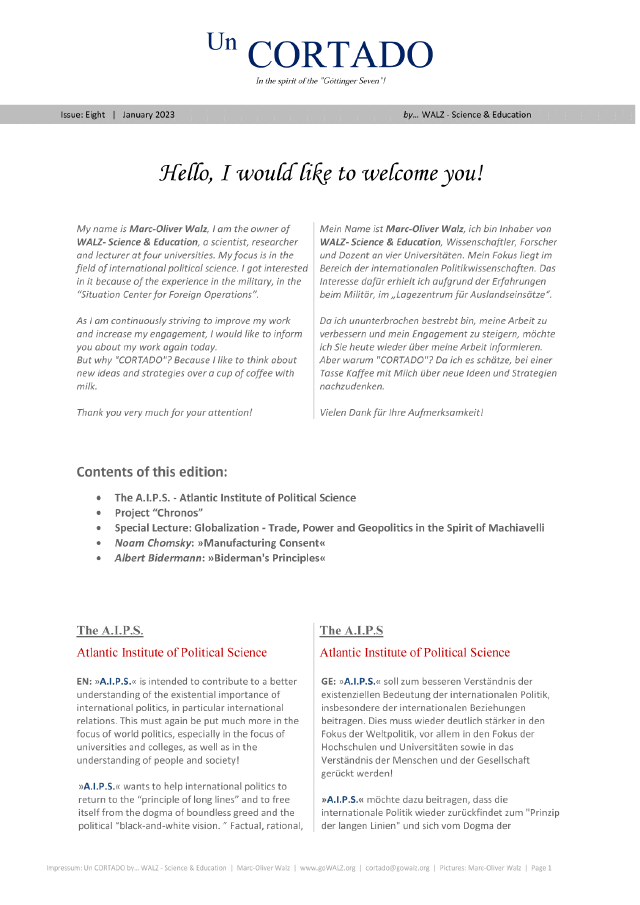 .
[+] NEW: 2022/06 - Lecture:2.40+Crimean-War (No.7) [390 KB]
.
[+] 2022/05 - Sepcial edition 3: EU and Russia (No.6)
.
[+] 2022/04 - Sepcial edition 2: EU and Russia (No.5)
.
[+] 2022/03 - Sepcial edition 1: EU and Russia (No.4)
.
[+] 2022/02 - Aggression+Lecture-structure (No.3) [167 KB]
.
[+] 2021/07 - Cassandra+Lectures (No.2) [298 KB]
.
[+] 2020/09 - Co-Working-Tenerife ...private area! (No.1) [92 KB]
05.05.2022: Aufgrund der aktuellen politischen Situation in der Bundesrepublik Deutschland und in Europa stehen einige dieser Ausgaben für die Öffentlichkeit ab sofort nicht mehr zur Verfügung. Dies ist eine reine Vorsichtsmaßnahme und hat nichts mit dem Inhalt zu tun!
05.05.2022: Due to the current political situation in the Federal Republic of Germany and in Europe, some of these issues are no longer available to the public with immediate effect. This is purely a precautionary measure and has nothing to do with the content!
>> You would also like to read our Readpaper?
Then send us an eMail with the keyword "Un Cortado" and we will be happy to add you to our distribution list [+]
______________________________________________________________________________________________________________